Linie 3
Anders Bircow
Thomas Eje
Preben Kristensen
Linie 3 - as I see them
Picture gallery
List of shows, album etc.
Carin's web page
---
Webmaster
Copyright © 2004,
Carin Olofsson

Last updated:
April 14, 2003

---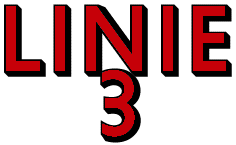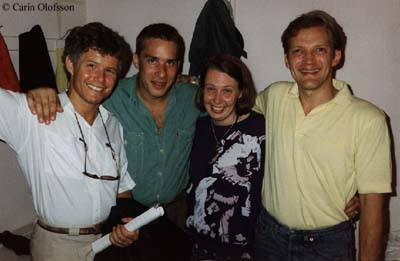 Anders Bircow, Thomas Eje, me, Preben Kristensen


This picture was taken after the show Hvor er de 2 andre!!? (Where are the 2 others!!?) in Tivoli's Glassal one evening in July 1992. The reason for my somewhat peculiar look is not only the joy of seeing Linie 3 (Line 3) again. Mainly it is because Preben's dog was licking my legs very intensely at the moment.




The members of Linie 3 are three Danish actors, Anders Bircow, Thomas Eje and Preben Kristensen.

To begin with Anders and Preben performed together with Asger Reher and Søren Pilmark, in a group called Barbershop Harmony. In 1978 Anders and Preben met Thomas at a party in Århus and they found out they had a lot of fun together. In 1979 the group Linie 3 was born and the debut took place at Jacobs Bar BQ in Århus on June 21 the same year. After Linie 3's first TV-show in May 1980 with Show for sjov (Show for fun) the Danes took them to their hearts. Since that all the Linie 3 shows have been sold out everywhere and their Linie 3 show, from 1997, was sold out so quickly that it ended up in the Guinness Book of Records.

When Anders, Preben and Thomas perform as Linie 3 they do a show with a lot of song, music, parodies and much, much more. They are very talented and play very well together, which result in shows of very high class. After a Linie 3 show you leave the theatre with a feeling of joy in your entire body, and the feeling stays with you for days. Apart from that you also have stomach cramps from laughter and your hands hurt from all the applauding - but that is something you happily endure.

Linie 3 Homepage

If you are a Linie 3 fan too, write to me.