Harpo
Harpo Picture gallery
Banana Band
Banana Band Picture gallery
List of records etc.
Carin's web page
---
Webmaster
Copyright © 2003,
Carin Olofsson

Last updated:
January 21, 2003

---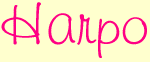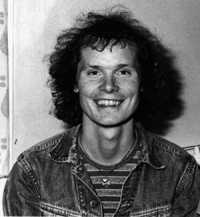 Harpo (Jan Svensson) was born in Bandhagen outside Stockholm on April 5, 1950.
He started acting at the age of 16 and worked as an actor for about five years. He was also a teacher at the Calle Flygare acting school in Stockholm. Then he recorded his first album and started as a professional musician in 1973.
He met his wife, Carina, at the acting school when he was 19. They got married in 1969 and are still married.
In 1977 he spent one month at Ulriksfors' prison because he resisted to be drafted.
In August 1980 he was training one of his racehorses. For some unknown reason, the horse kicked out behind and the kick hit Harpo right in the face. The horse's left leg got stuck in the shaft of the sulky, and the horse got so scared that it kept on kicking several times. The damages were so severe that no one believed Harpo had survived. The frontal bone and the nose had been pressed inwards and the optic nerve on one eye was cut off. He is now blind on that eye and he has also lost his sense of smell.
Presently he and his wife live at a farm outside Halmstad in Sweden, and he frequently goes to Germany to perform. In Germany he is still as popular as ever. Apart from working as a musician, he also spends a lot of time painting pictures.

Sources:
Top Of The Pops (the magazine)
Helsingborgs Dagblad (Swedish paper)
Hänt i veckan (Swedish magazine)
Hemmets Journal (Swedish magazine)
Kvällsposten (Swedish paper)

Kerstin Escher's German website about Harpo. Here you find a lot of photos, lyrics, videos etc.

Ralf Bender's website about Harpo, also in German, with photos, lyrics etc.

If you are a Harpo fan too, write to me.