Pålsjö War Cemetery
Commonwealth War Graves
German War Graves
Other Tombstones
Kullabygden Genealogical Society
---
Webmaster
Copyright © 2007,
Carin Olofsson

Last updated:
June 16, 2005

Sergeant Charles Kenneth Davey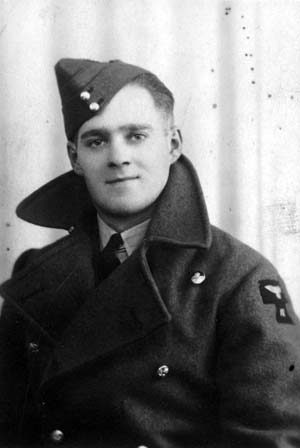 Information from Mr. Sam Arnold,
Kenneth Davey's brother–in–law,
June 9, 2005.
Kenneth Davey was the second son of my wife's family. There were three sons; Percy was the elder, Kenneth the second one and Creswell the baby son. Then there were three daughters afterwards.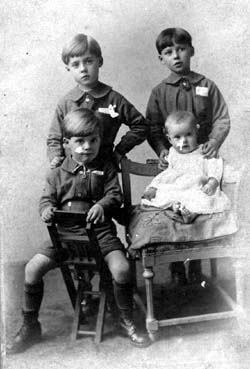 Kenneth, Percy, Cresswell and Eunice Davey

Kenneth was, as we in England say, a bit of a ladies' man; he was goodlooking, he had everything going for him. He was clever, bright, smart in appearance. He served his apprenticeship as a blacksmith with a granit masonary company and then, being Cornwall, there's very little a person can expect in Cornwall, because it's just a dead end. All the industries that are there are being sold off or used up in other ways, so Kenneth volunteered for the RAF and after he served his original cadetship at Blackpool in Lancashire.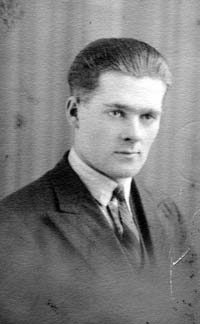 He was shipped to Gibraltar, and he was stationed in Gibraltar for quite some time, which is where he had the drawing taken of himself. From Gibraltar, when the war was declared, a lot of these lads were brought back to train for warfare, and Kenneth became an air gunner. There wasn't much scope for a blacksmith in an airplane, so he became an engineer/air gunner, which means to say that he was virtually a gunner, defending the aircraft itself.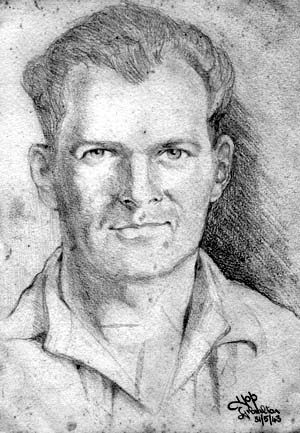 There isn't a lot that I can tell you about Kenneth's life, because I didn't know him, except for one week; the last leave that he ever had. He spent the last week of that leave with the first week of one of my leaves, and as a result of that, I got the drawing that he gave me. I think it must have been faith, because he insisted on seeing everyone of his relations, and everyone of his old girlfriends and aquaintances before he left, and from then on he was just the bloke that was in the RAF; my wife's brother, or my sweetheart's brother as he was then. And then when I came on leave one time, Mrs. Davey received a telegram to say that her son, Charles Kenneth, was missing over operations and he was buried in Sweden, and Sweden is rather a large place to be buried. Just to stipulate that you'r buried in Sweden was an unentity (?).

I tried in every possible way; the RAF Association, the British Legion, the War Graves Commission, the SAPA (?), the Old Comrades Association, you name it. I tried and tried, but nothing was happening until about two years ago. I was home and the phone rang, and one of my nieces said that her son, fiddling around on the internet, had come across Charles Kenneth Davey, ex RAF, but he couldn't tell anymore. I handed this information over to my daughter's partner, who found out that there was a lady in Sweden, called Carin Olofsson, and she was studying and chasing all the information she could find in reference to this graveyard, Pålsjö, and as a result of that, here I am sitting in a garden in Sweden. Finally I am here; I've carried out a promise I made way back in 1946. It's been a struggle, but it's worth while. I can now rest in peace.


All photos are published with kind permission from Mr. Sam Arnold, Cornwall, UK

up